Post by justyfied on Dec 22, 2011 13:37:10 GMT -4
How to create and use an external image hosting site
One of the first questions that is asked on a forum, by new members who may not have had previous experience on Web Forums is:
Before posting a picture you will need to have it hosted somewhere on a Web based Picture hosting site.
In simple terms the picture needs to have a web address which is like a house address, so that the forum knows where to find it when showing a thread with pictures. You must upload your photo to the internet before you can post it into a thread.
The methods for hosting a pic are fairly similar from website to website. First use Google or Bing or whatever search engine you like to search for a hosting site to your liking.
Here is a list of some that you can try:
www.photobucket.com
www.shutterfly.com/
www.photobox.co.uk
www.tinypic.com
www.fototime.com/
imgur.com/
Here at:
classicsubarujusty.proboards.com/index.cgi
we prefer to use
www.photobucket.com
So all the examples you will see here are for that site.
Once you have found the site from Google or used the direct link above, you will be at their "Home page"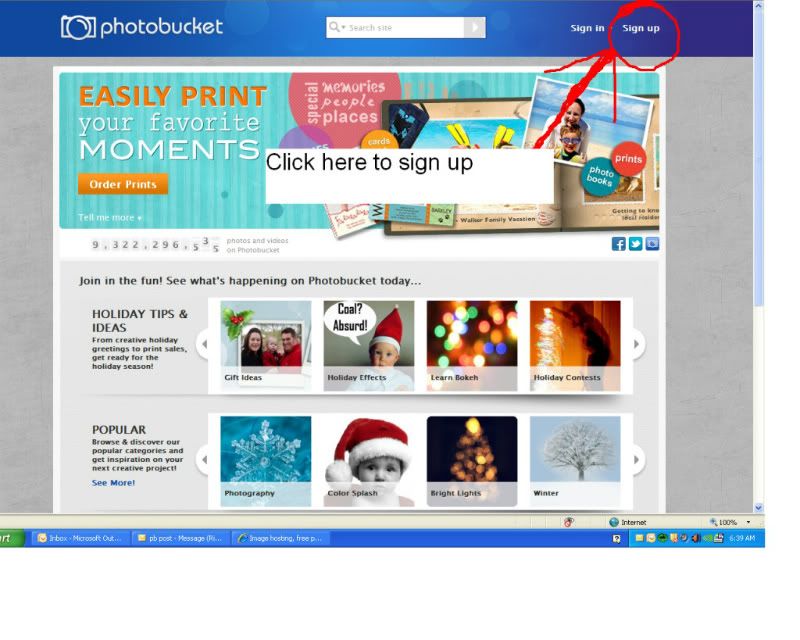 Go ahead and set up your account,
Most sites send a confirmation Email once you have set up an account, this may take them a little while. Once you are registered you can go to the site and "Login"
At this time I would take the time to set up some different folders to make it easier once you have ALL those pictures saved. You do not want to end up with an over loaded single catch all folder that is not organized. When you go to move pictures into the folder later it will break the links to the forums they are hosted to, causing an all to familiar site of a small X where the picture used to be!!

Now that you have a few folders you can open 1 up so that your picture goes into the correct place.
Now it is time to actually bring that picture right from your personal computer. Which if you are like me has many pictures saved in many folders. Hard to find the picture unless it has a relevant title.

There will be another window pop up which has a large GREEN "Select Photos and Videos Button" right in the middle. Click that and then after 3 seconds a small sub window will load which will show the biggest folder in your photo section. You may have to move it around to get the folder you want displayed and OPENED!
Then you must make sure that the Title of the picture you want to bring to Photobucket is in the upload box in the bottom.
Now it is saved to your folder but it will have to be titled if you like, and saved again.
Then it will show it as a small picture in your folder. when you hover the mouse arrow over the image a bunch of drop down windows appear. If you select the bottom one and click it, it should say copied briefly.
Now that image code is stored, you can go ahead and post your pictures here in a thread. Keep your window to Photobucket open so that you can go back and load even more pictures into your post! ;D
If you want to modify your pictures because they are too big or you want to shrink them down to a much smaller: 100 by 100 pixel size you can create a custom image that is called an "
AVATAR
" This can be placed beside your Forum name to spice it up a little.

en.wikipedia.org/wiki/Avatar_(computing)
Then you can modify and or crop it to whatever you like.
Important:
Please resize your pics to a reasonable size, 800 by 800 pixels. Any bigger creates a real PITA because it makes the whole page in the thread really wide. Then you have to use the bottom scroll bar to read the post.
You can do it this way:
1. Before uploading the pic to your computer from your camera or when sending the picture to yourself in an email it will enable you to resize it. You can also resize it on your computer with a photo shop or similar program. If you know the picture is to be used for posting on forums, resize them right away.
2nd After reloading the picture to the image hosting site they can be resized, hopefully before they have been posted to a forum. Otherwise the original non resized images out in the web will be lost with a broken link.
3rd You can also resize and make an additional copy to be used as an "AVATAR"
Have fun and Good luck!