Post by justyfied on Aug 13, 2013 16:22:03 GMT -4
I have been meaning to start this thread for some time. Problem is that I feel that its purpose will be misunderstood and I might be judged because of it.
As it is right now, my life is so busy with the little things like running after my 3 kids now aged 10 , 9, and 8 that I barely have time to chop down the forest which used to be my lawn. I have several (read many) vehicle projects that are started and not finished. These are hobby things that I do when I have time. Since I dedicate only the finances that I get from collecting pop bottles, the really racy items have to be carefully selected and saved up for. For instance I now have 2 bronze/metallic racing clutch disk's and 1 hopped up pressure plate for a Turbo and or Supercharged Justy project. This alone cost over $750.00
Around here we call what I want to do in this thread—Bench racing. That is, stand around the tool bench in the work shop or garage, holding your favorite beverage, and explore the possibilities of what COULD be.
Goal, to make a car in the comfort of said garage without the aid of welding equipment. It will be the exact 1/2 to 2/3rds scale version of one of the most sexy looking sports car's of all time and will be made almost entirely of Styrofoam and fiberglass without a mold.
Here is a great story about weight versus power:
www.tuneruniversity.com/blog/2012/03/power-to-weight-ratio/
It will hopefully weight less than 1000 lbs/ 450 Kg with a full tank of fuel. Because of its light weight it should corner like or better than any super expensive Italian exotic even though it will have tires that are only 155 front and 175 wide rear. As a function of having either a 660cc or 1200 cc engine and these small tires combined with superb looks and aerodynamics (light weight doesn't hurt either) it will achieve fuel consumption rates of better than 75 mpg.
With weight to power ratio's of around 10lbs per horsepower it will accelerate like:
www.formulanone.org/gt2/cars/ratio.htm
Or like these cars:
ca.askmen.com/top_10/car_lists_150/150b_car_list.html
It will be a wonderfully wild handful to drive. Especially with a nearly empty fuel tank, and a light operator who is a touch too rough on the clutch. As it might tend to lift the front wheels when the light goes green. Even though it should have between a 45/55 or 50/50 front to back weight split.
The overall length and wheel base is determined as a percentage of the scale once the minimum width (track width) is determined.
In other words, once it is determined how much narrower the track width can be made from the stock donor suspension. Then you divide that track width into the stock track width of the car this will be modeled after. With that percentage, the overall length and wheel base can be determined.
I think that I can come up with a car that is 10% narrower than the Vivio/ Rex / Sherpa cars we all know and love. Smaller frontal area makes any vehicle faster and I want this thing to be narrow and lower than a snake's gut in a rut.
So that is what it will do, here is what it will look like, only 2/3rds as large.
This image shamelessly stolen from this webpage:
www.autozine.org/Archive/Jaguar/classic/E.html
I got the whole idea from this when I became aware that Subaru had pretty much done this with their Subaru 450 Sport concept car: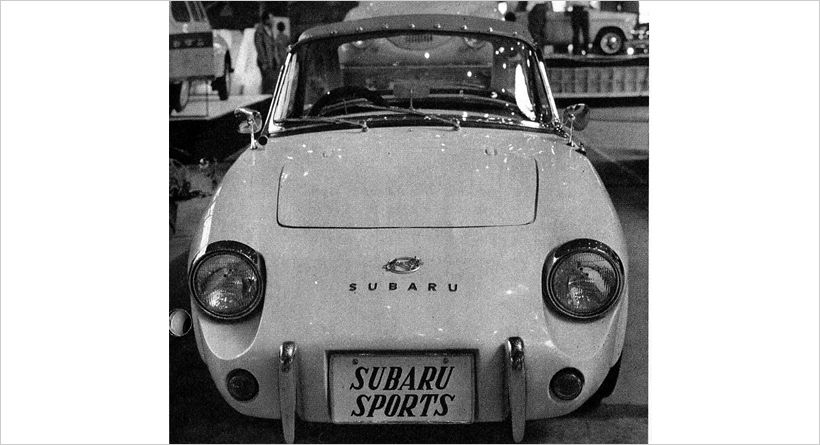 See more here:
classicsubarujusty.proboards.com/index.cgi?board=general&action=display&thread=262
The driver will sit just slightly offset from center with his feet on the foot pedals located a small amount behind the front axle center-line. This will be a rear engine, rear wheel drive car. With future models perhaps being 4 wheel drive!
The tires will be from a Smart car because this car has narrow, highly efficient tires in a variety of tread patterns. The Michelin tires from the front of a Smart car that I tried on a Justy were absolutely stunning. The level of performance increase by going up from a 12 or 13 inch rim to a 15 or bigger rim is awesome. Even if the tire width itself is narrower!
Here are some choices of combinations of sizes:
15 inch Wheels:
Front: 155/60 R15 Rear: 175/55 R15
or
Front: 175/55 R15 Rear: 195/50R15
16 inch wheels
Front: 175/50 R16 Rear: 215/40 R16
16 inch/17 inch (BRABUS model only)
Front: 175/60 R16 Rear: 225/35 R17
The fuel tank will be centrally located from side to side right over the front axle center-line and should have a relatively large capacity. The air to water radiator for engine cooling will be angled forward mounted ahead of the fuel tank. The air from the radiator will exit to the side of the car behind the front wheels.
There will be a removable front hood to service the fuel tank and rad. 2 side access doors for the driver and a small (very skinny adult or younger teenager) passenger. The rear hatch will be a small cover below where the hatch is on the E Type. This will provide access to the engine only.
As far as the concept of using foam and fiberglass plus maybe some plywood and electrical conduit piping here are some links to a famous home-built airplane that is more than proven for its strength and reliability.
en.wikipedia.org/wiki/Rutan_Long-EZ
Here is some more on this building method:
www.sportair.org/articles/Building%20A%20Composite%20Aircraft.html
So what I would do if I had the time and money to try and do this is:
Buy a Subaru Libero Van that was a good runner but with a trashed body. Use it for a donor for the complete engine/transmission and suspension and just make the rest of the car around these components. Remember that this is the one that has the engine layed over sideways.
All right now, let the good humored poking and idea stretching conversation begin. ;D