Post by justyfied on Nov 4, 2013 1:55:52 GMT -4
This should be the first in a few posts here on the sizes and specs of different engine components.
Now with the Justy EF10 engines specs posted below.
Okay, This thread is about listing critical internal engine dimensions and how to measure them. Some of these measurements are extremely hard to find on the internet and should be verified for yourself. That is because in some cases you cannot get new parts or you may be able to substitute better (high compression) Pistons or stronger and longer connecting rods from a totally different engine. Some of these can be had for a very reasonable price, gently used from Ebay for example.
Just because an engine has the same bore of a Justy it doesn't mean that it is automatically a candidate for a second source of a replacement piston.
For example there is a Diesel engine that has the same bore of 78 mm as a Justy but these pistons are twice as long as a gasoline burning Justy piston which is 55 mm long on the thrust side and 90 degrees to that on the pin axis it measures 43 mm from the top of the piston to the bottom. There are numerous 2 stroke engine pistons that are not suitable also.
Anyway even if you do find a car gasoline burning engine that has the same bore as your car. The distance from the top of the piston to the center of the wrist pin (Gudgeon pin) will be different in most cases. This means that if by fluke it had the same size wrist pin as a Justy which uses a very rare 18mm pin, It might stick way up the bore and hit the cylinder head before the end of the full revolution.
This is called compression height and here is a picture showing my lousy artistic skills.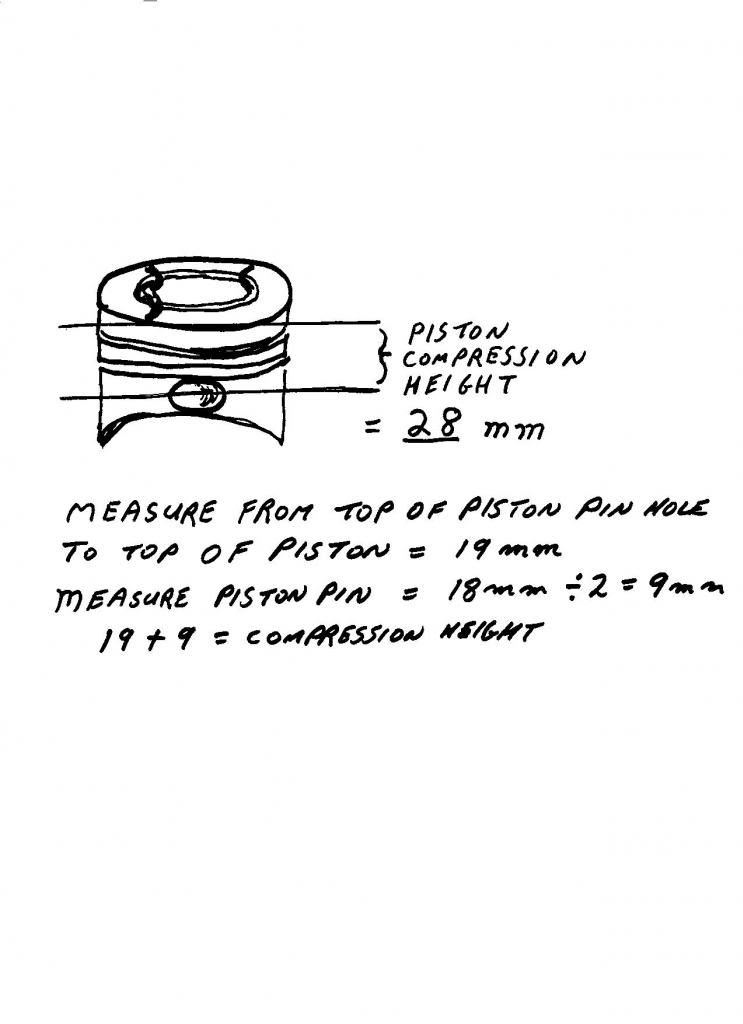 So just to show that using pistons from a totally different make of engine is possible. But it can be a fair bit of work. Here is 2 links to an ingenious Datsun(Nissan) owner who managed to fit 1mm overbore Justy pistons into his old Datsun engine. Notice that even the small end of the con rod was machined as well as he decked or milled down the block to accommodate the difference in compression height.
www.cardomain.com/ride/2447688/1977-datsun-b210/
Go 3/4's of the way down:
community.ratsun.net/topic/3516-b210-on-ice/