Post by cpc on Jul 9, 2011 8:43:45 GMT -4
Here's my other Subaru. It's an Australian delivered 2006 Impreza WRX. I bought it new. Up until I bought my Sherpa, this was my daily drive. The car has seen a LOT of development over the years and is the class leader in the Improved Production class (over 3 litre) at the Queensland Super Sprint Series here in Australia. The car has been quick for a few years now and managed a 2nd outright in a field of over 100 in 2009, beating open wheelers, ZR1's and even an ex Porsche Cup car. 2010 saw a string of mechanical issues and a poor result. I'm on track this year for another class win and a top 3 outright (I hope).
Here's a list of what it's running currently:
Suspension:
Tein Type Flex Coilovers
Kings coilover springs (450/400lbs)
Perrin Cross Lock subframe brace which is modified to clear headers
STi Spec C steering rack
STi RA-R aluminium pillow ball lateral links
STi endlink boxes gusseted for increased strength
STi pillow ball trailing arms
STi Spec C titanium front strut brace
STi rear strut brace
STi cowl braces
AVO Adjustable endlinks
TiC Rear Diff Mount Bushes (race version)
GT Spec Anti Lift Kit
Whiteline 24mm adjustable FSB
Whiteline 24mm adjustable RSB
Whiteline heavy duty rear sway bar mounts
Whiteline Steering Rack bushes
Whiteline Roll Centre kit
Whiteline Rear Diff Support bushes
Whiteline Rear Subframe lock bolts
Whiteline trailing link rear bushes
Drivetrain:
STi Version 6 RA Ltd/S201 DCCD gearbox
DCCDPro universal controller
6 Gun Racing custom front hubs
STi R180 plated LSD diff with enlarged Perrin cover
STi Version 8 RA (gravel) rear drive shafts
STi Version 9 rear hubs
STi Group N transmission mount
STi Group N engine mounts
STi Group N pitch mount
ARP extended wheel studs
TiC Transmission Cross Member Bushes
Engine:
MSR/Hitec custom exhaust including 3" ceramic dump with gusseted turbo splitter, 3" mid section and diff back with modified 2.5" Hitec rear muffler
Nickel Sport ceramic coat equal length headers & up-pipe
Process West anti-surge tank
Process West TMIC
Silicon turbo inlet hose
Grimmspeed 3mm phenolic spacers for intake manifold
IHI VF34/P20 turbo with port & polish exhaust housing
Turbosmart FPR-800 fuel reg
Hyperflow Oil Cooler kit
Peterson vent to atmo oil catch can modified for 3 ports
GFB Lightweight Crank pulley
STi high pressure radiator cap
STi Motorsport panel air filter
Brakes:
Brembo F50 front calipers with Brembo hats and StopTech rings
STi Rear Brembo's
Zimmer carbon Roo ducts
Performance Friction PFC01 front pads
Endless PC35 rear pads
Dixcel heat treated rear rotors
STi braided brake lines
MRT Brake Master Cylinder Brace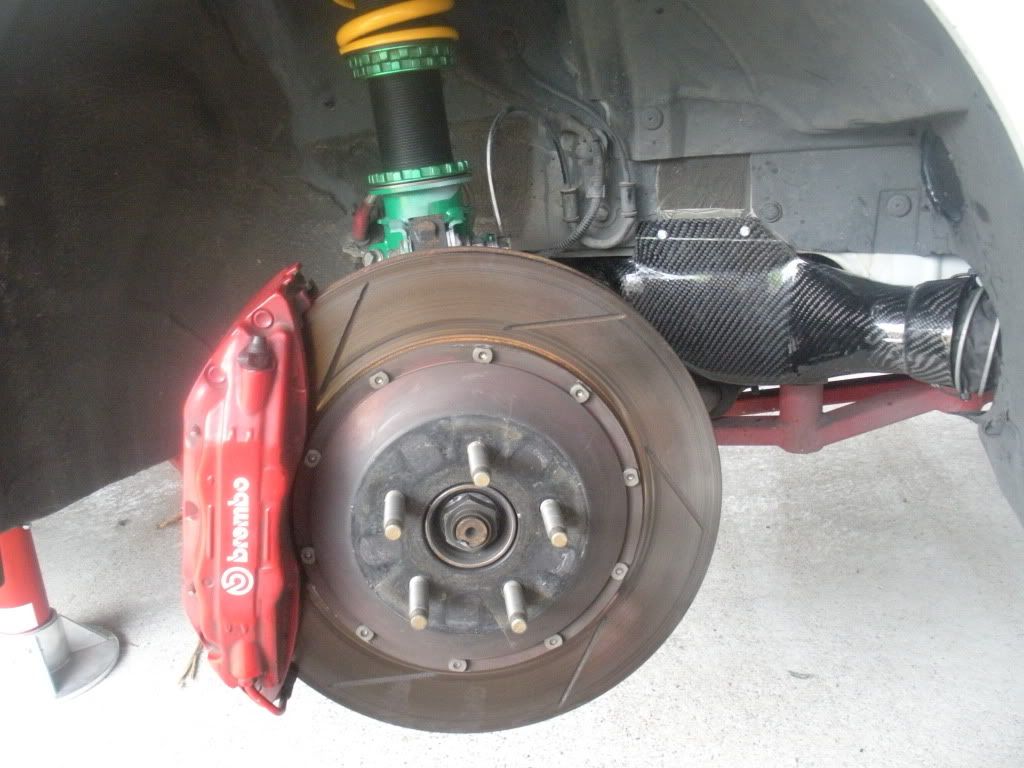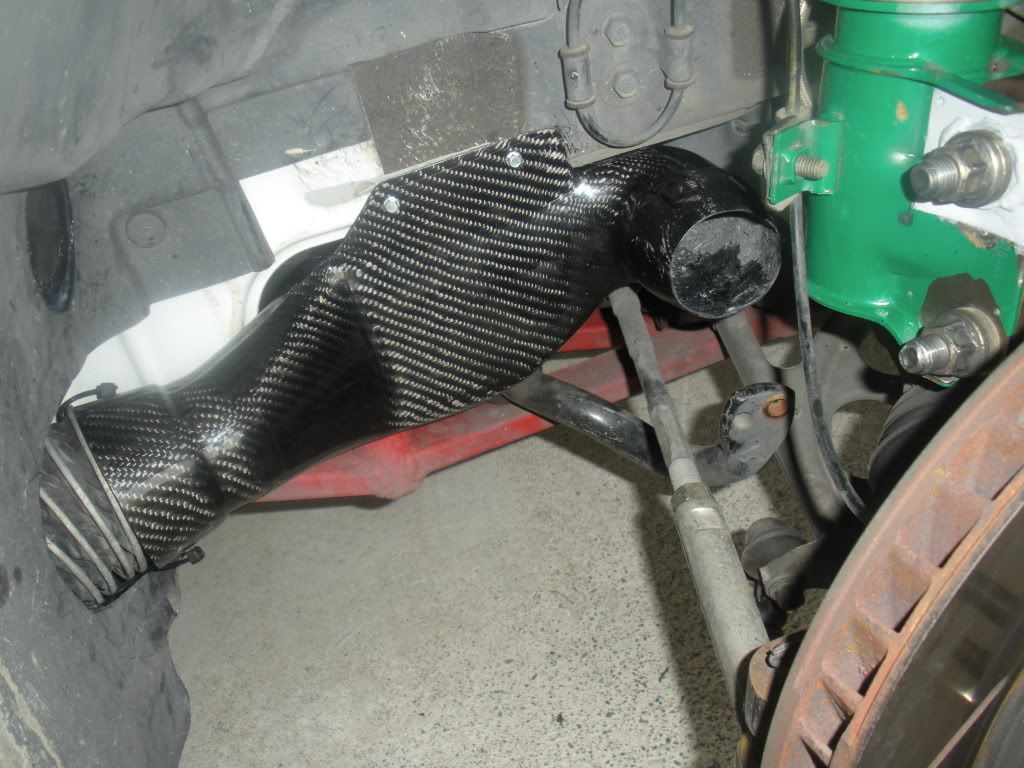 The old rear hub set up before upgrading to the 2007 STi hubs and Dixcel rotors: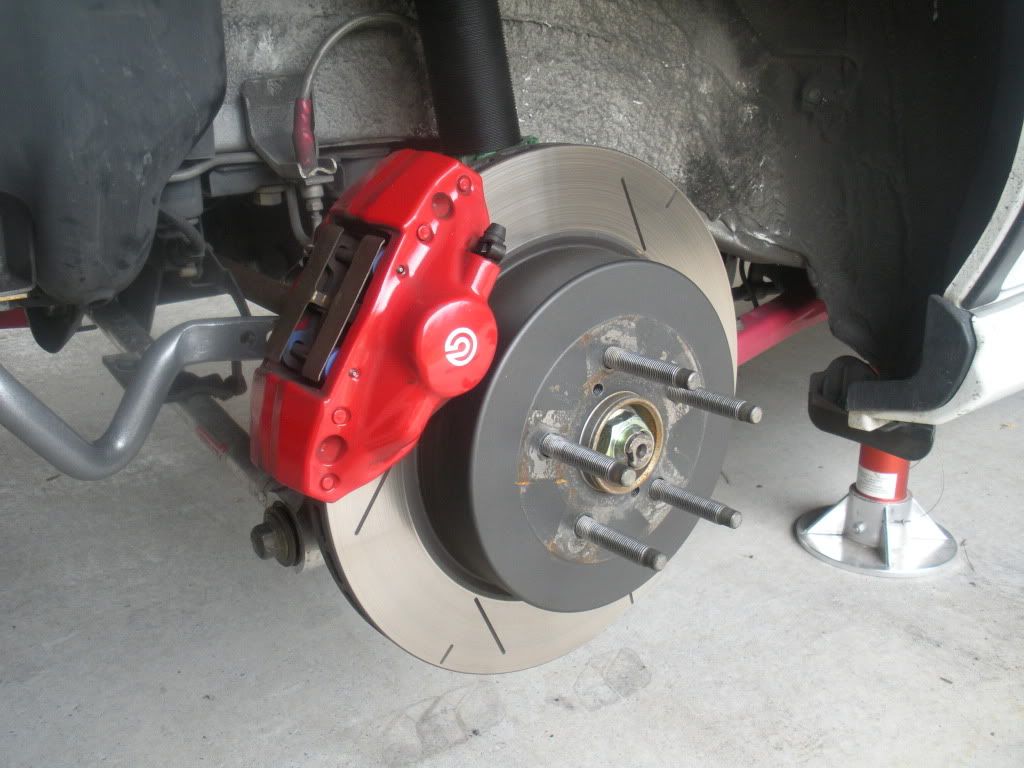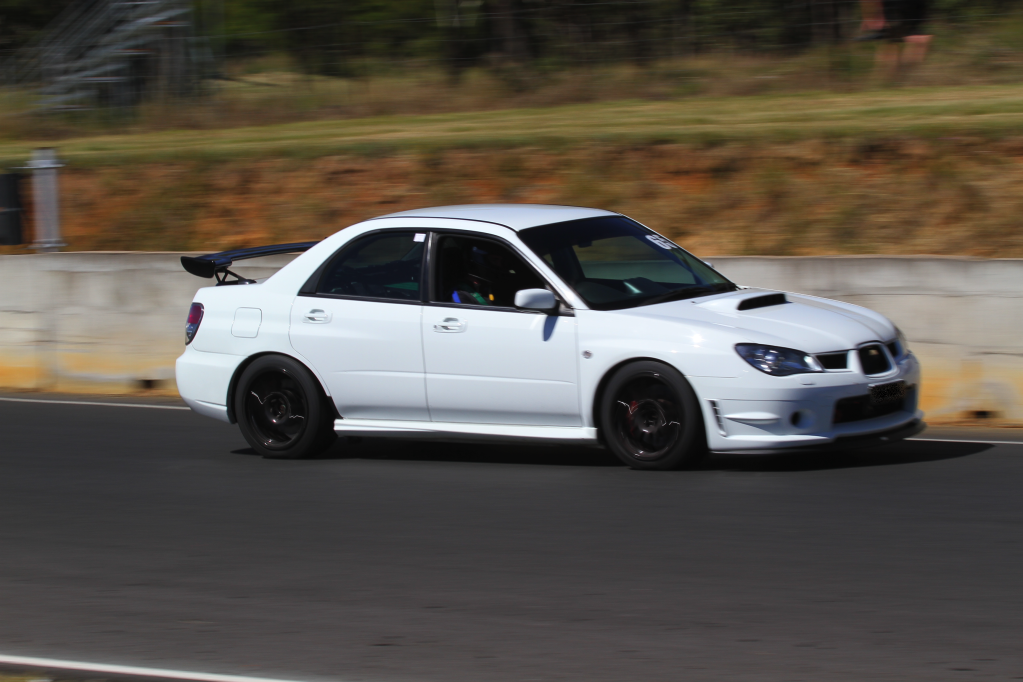 There's heaps more but I have a hard time remembering most of it. I think I have most of the recent, important stuff covered. The exterior of the car is mostly stock except for the addition on the STi S202 carbon rear wing and S204 front lip. I also cut the front grill out.
In competition it runs on various types of wheels. Most of the pics show a set of Team Dynamics in 17x9 with 245/40R17 Kumho V710's. With the addition of the larger Version 9 hubs last round I bought some Rota DPT's in 17x9 +35 offset. Significantly cheaper and just as light. Here's the Team Dynamics.
The interior is almost stock too. I have a set of Defi/STi Genome gauges for most engine stats I need to know. I use a Meridian Motorsport harness bar that sits on the rear parcel shelf. A set of Takata harnesses attach to this. I have a staged shift light and some other basic stuff to comply with scrutineering. The Odyssey PC680 battery lives under the passenger seat. There is a custom made WC Lathe Werks shift knob that extends the shifter and I use a Kartboy shifter with the shortened throw. Keeps the know at a good height but helps to speed the shifts up. All the bushes in the linkages have been upgraded too.
The car is tuned by Australia's guru of Subaru's – Michael South from MSR. He's a 10 hour drive away from me but it's worth it to have him work on the car. The engine is unopened with very basic mods and a turbo but it has way more torque than it deserves. Outright kilowatts are still fairly conservative. It keeps it reliable.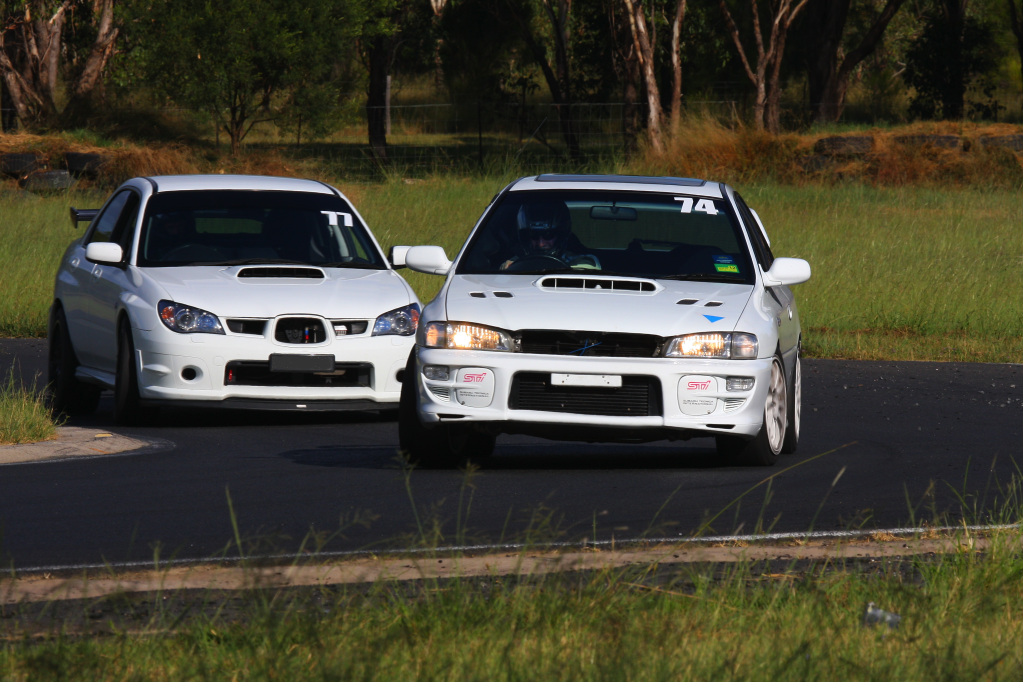 That Version 5 2 door STi above belongs to a good mate of mine. It's pretty wild with a stroker engine and late model STi running gear. It runs on a combination of 98 octane, toluene and meth. He could have bought a brand new STi for what he spent on the engine last season. He is yet to beat me ;D
The car comes off the road in about 2 weeks to have a new front LSD fitted. I went to great lengths (and expense) to source the current S201 gearbox from Japan. It's the strong 8 bolt case with the short ratio RA gearset, DCCD and front helical LSD. I'm loosing too much drive when I get the car on two wheels so the helical front is coming out and an STi Motorsport plated LSD is going in. I will also need to adjust the preload on the rear plated diff to tighten it up too. Finally, Possum Bourne Motorsport can re-wind the magnets in the DCCD for me to dramatically increase it's clamping strength, so driving on two wheels won't slow me down any more!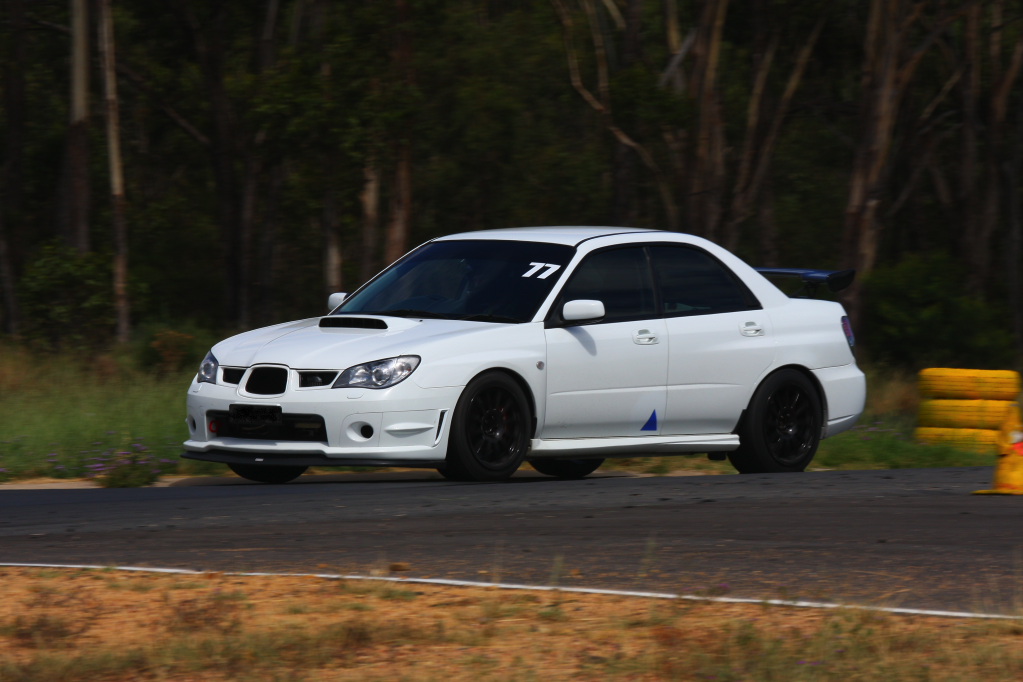 As you can probably see, much of the work on the car has been done to the suspension and getting the power down. I do about 90% of the work myself which helps keep costs down. There is a lot to be made in suspension and alignment. I had the front hubs modified for me by 6 Gun in the US. I had them offset some mounts so I could improve the SAI and still run large numbers with camber. Here's an old pic of how I (often) run my strut tops. Most people think I've made a mistake by orienting them this way but once I explain the numbers they get the picture.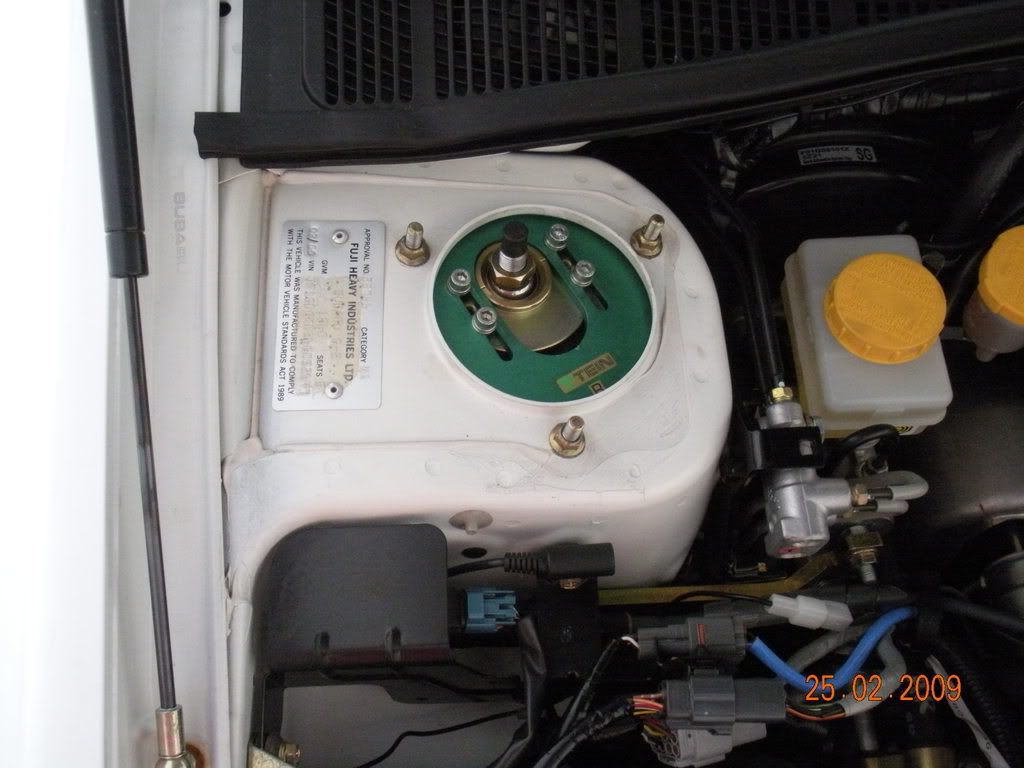 Anyway, if anyone has any questions or wants any pics of anything, just ask. There is a lot more to this car than what I've babbled on about here, and it's taken lots of trial and error. I have a couple of other projects on the go too. I might make some threads about them (they are not Subaru's – one has double the cylinders and half the driven wheels!)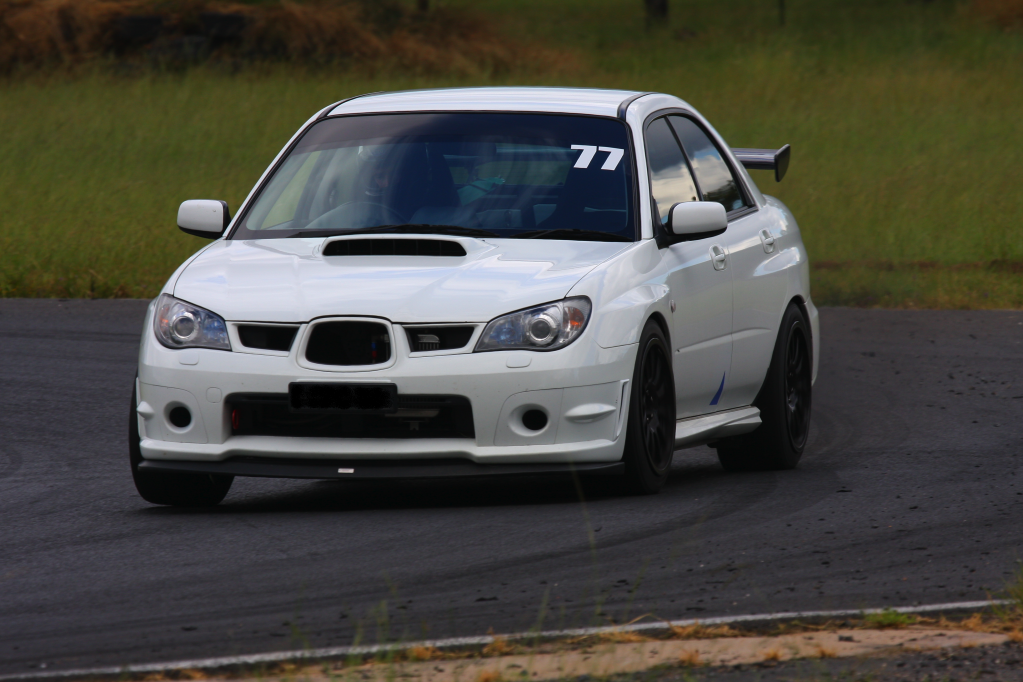 Chris.