Post by justyfied on Apr 29, 2009 0:13:12 GMT -4
The Subaru Rex, depending on model, production date, place of manufacture and intended market came in a few different body styles. It was also given several different names again depending on market. It was referred to as:
ACE 550 600 700 SX700 R2 REX REX II M60 M70 M80 and Combi (delivery)van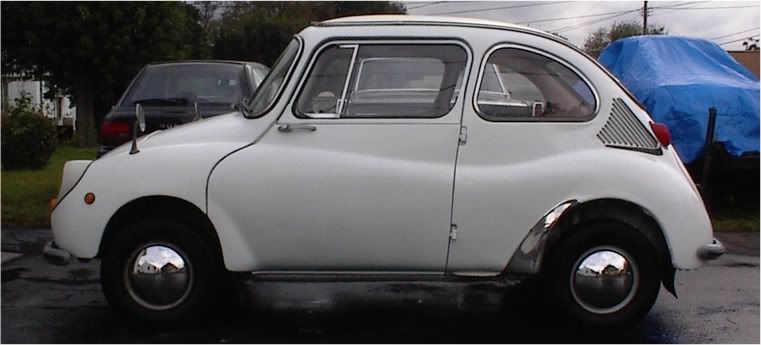 Originally Subaru had a car that was in many ways like a Volkswagen Beetle. Introduced in 1958 to 1970 in Japan and sold in the USA from 68 to 70 it became popular as a KEI JIDOSHA car. It had a rear mounted air cooled horizontally opposed 2 cylinder 2 stroke cycle engine. This 356 cc unit had a bore of 61.5mm/2.42in and a stroke of 60mm/2.36in. This stroke length became a common size for many early Subaru engines.In a 1968 model called the SS it produced 36 HP. With the lite weight of less than 1000LBS/425kg this snappy little car could leave an early VW Bug in its dust. 1969 brought some changes when the R2 was released.
The engine was still in the rear and was the same size but now had an aluminum block.The boxier looking body had a longer wheel base of 192 mm versus 180mm for the 360.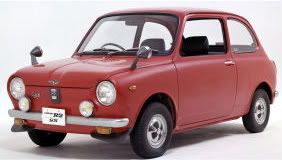 The R2 was the replacement for the long lived 360, Produced from 1958 to 1970. The R2 was really a re-bodied 360 and was produced from 1970 to 72. This is where there is alot of changes and overlap. In 1971 the EK33 a Water cooled in line 2cylinder 4 stroke engine was installed in the R2.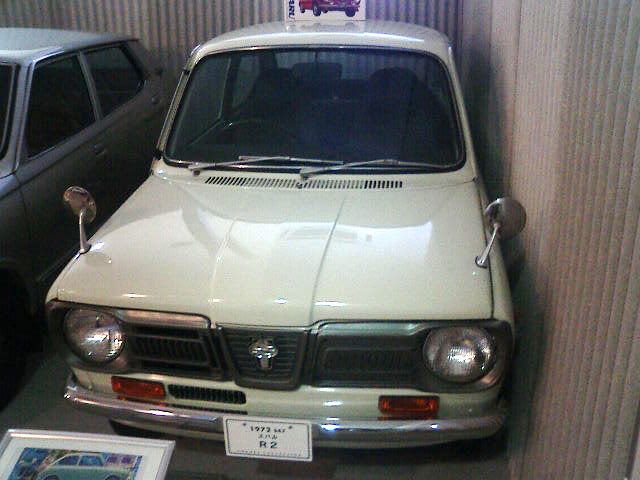 Then in 1973 there was a new body style called the REX 360 with a water cooled 4 stroke, still a 356cc engine like the 2 stroke 360 car engine.This is the first time for this name.
Also in 1972 the Air cooled Flat 2 cylinder was available for the last time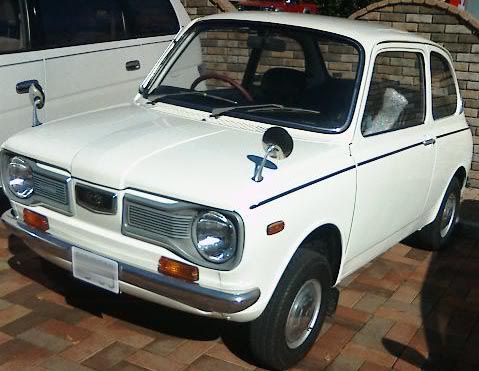 Over the next few years the model numbers increased as the Water cooled engine size increased. 400with a 358cc engine called an EK21. Which was produced from 07/72 to 08/77.Then the REX5 or 500 with a 490cc engine (EK22) was released in 08/76 to 08/77. Also there is a 550 model, more on this later. Finally there is a REX 600 first produced in Jan. 1981 until as late as 1983 as sold in Santiago Chile.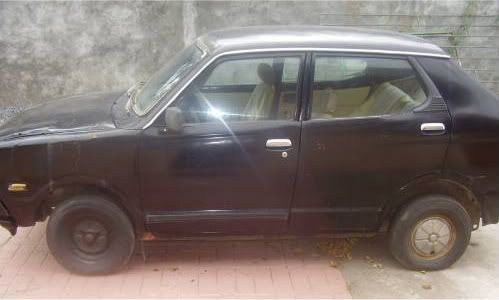 A view under the rear hood of the above rear engined 600 2 cyl.
Meanwhile back in Japan a totally new body and front mounted water cooled OHC 2 cylinder engine displacing 544cc was released. This new front wheel drive and in some models 4wd car looked like the later 700/Sherpa/Mini Jumbo. It was called a 550 in reference to the 544cc displacement watercooled inline 2 valve per cylinder 2 cylinder engine. This engine, the EK23, has a bore of 76mm and a stroke of 60 mm. this EK23 engine would later come with a turbo in Japan. This was first available in 07/84.
The 2 cyl. Turbo EK23 produced from06/85 to 06/87 came with 2 intake valves and 1 exhaust valve like the EF12 Justy engine.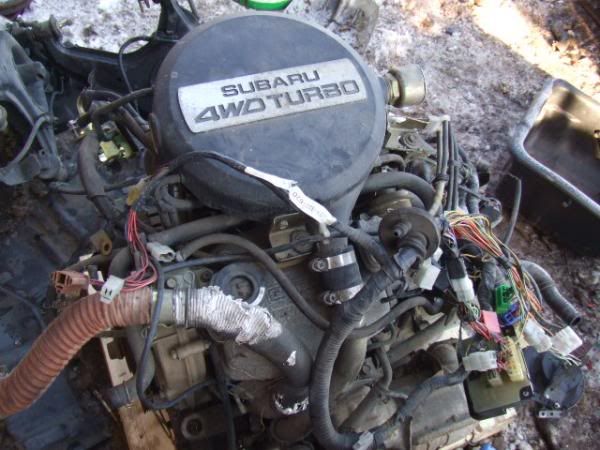 Then the 2 cylinder EK23 came with a little belt driver blower from 08/88 to 06/89, When the Rex was replaced by the new VIVIO
In 1984 the Rex 550 Turbo came with an EN05.This may be the first Subaru production example of a small inline 4 cylinder engine. It displaced 548cc with 2 valves per cylinder, had a bore and stroke of 56mm by 55.6mm. Also it had EFI and produced 60 BHP(44.7KW). Strangely it only appeared for this one year. The Turbo EK23 2 cylinder replaced it from 85 to 87 and 88 to 89 with a blower. Too bad as the Turbo EK23 only produced 54 BHP(40KW). Possibly due to having a blow thru one barrel Hitachi carb. Remember that the Turbo EK23 had the upgraded 3 valve head from 85, and this head was still available in Japan in the naturally aspirated EK23 from 06/87 till 06/89. The Export EK42 665cc 2 cylinder always had just the 2 valve head.
This is a similar arraignment to the larger 3 cylinder EF12 1189cc Justy engine. Showing that the mid to late 80's JapaneseRex used engine designs which later became very successful highly produced variants in the Justy(EF12) and the Vivio(EN07).
Here is what the first REX 700 looked like: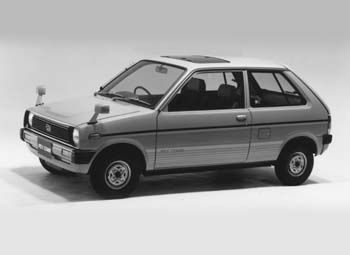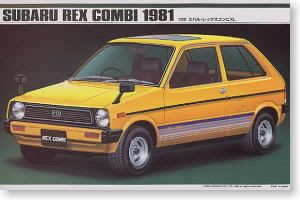 And some pictures of the 4WD version: